Home » Entertainment
Dropping out of NCAA Football
Today is July 14th, 2009.
For college football fans, video game aficionados, and North Texas player-haters all across America, this is a day of rejoicing. NCAA Football 10 (as in the year 2010, not the 10th entry in the series) hit store shelves today.
For as many years as I can remember, I've been an automatic buyer. At least as far back as 2003, the NCAA Football release has been practically a religious holiday. One year, I managed to score a copy a week early thanks to a friend who also happened to be a shady employee for a big box retailer.
Another year, my brother and I coerced/bullied his then-girlfriend into trying to get us an early copy. We sent her to a Circuit City that had accidentally sold a few copies ahead of the release date, and made her flirt with one of the employees so he'd sell her a game three days early. It was not our proudest moment. Or our happiest moment, because the store had already felt the brutal wrath of the EA gods, and the whole shameful effort didn't even earn us a copy of the game.
Usually, I'd make a midnight visit to Wal Mart to avoid the insufferable dork crowd that gathers at video game stores for overnight releases. Last year, Wal Mart wasn't a viable option, so I had to do the nerd huddle at a GameStop near SMU. Buying from an actual video game store netted me a freebie gift bag, but it wasn't worth it. A bag of pizza flavored Combos couldn't get the awful aftertaste of SMU out of my mouth, and the mini-stick of Old Spice deodorant couldn't cover the secondhand stink of dweebs I'd had to commingle with to get my game.
For anyone unfamiliar, NCAA Football allows the user to play through a continuous series of seasons as the head coach of one (or more, job swapping is allowed and encouraged) Division 1-A school. Each year, the Dynasty aspect of the game evolves and deepens, with complex systems for tracking and recruiting high school players, spring training drills to improve player attributes, practices and scrimmages, and much, much more. Each season also features new advancements in game artificial intelligence, gameplay mechanics, crowd interactivity/immerssiveness, online play, and so forth.
Casual players can throw their Texas Douche hats on and play arcade style. Obsessed control freaks can customize their alma mater's playbook, uniform colors and design, and attempt to bring their school of choice up through the ranks of conferences and into BCS championship glory.
I've always tended more towards the Dynasty elements of the game and away from the actual on-field gameplay. Each year, more and more of my game playing time gets spent on the recruiting and roster maneuvering, with less and less being spent actually playing fake football.
This is not, in and of itself, a bad thing. When I was a kid, my favorite video game was a Super Nintendo game called Aerobiz. For the unfamiliar, Aerobiz was an airline industry simulation game featuring such kid-friendly gameplay elements as: Airplane purchasing and resale, mechanic and flight attentant union negotiations, international relations, global and regional advertising, route layout and individual flight fare pricing, and quarterly reports delivered during minimally animated corporate board meetings.
You never fly a single plane or see a view from a cockpit, but there are menus and balance sheets galore. I'll leave it to the commentariat to analyze what it tells us about my childhood, but I loved the hell out of this seemingly boring-ass game.
Fun fun fun, all summer long!
Some people get nostalgic and misty eyed when they think about Bo Jackson in the Tecmo Bowl games. I feel that way about the gate negotiator who could sometimes go to an Eastern Bloc country and secure 10 slots for my decadent American airline in a mere six months. Six months!! His three colleagues might take a full year, and only come back with 4 or 5 new gates!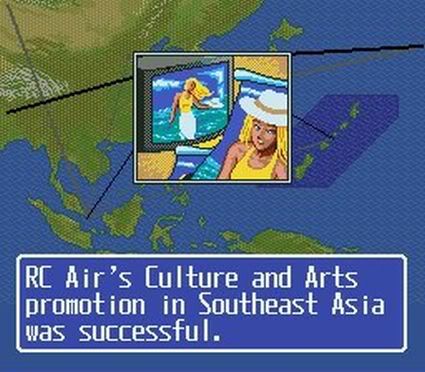 You magnificent bastard… Another job well done! I knew I could count on you!

Considering this, it's really not a surprise that I spent most of my time in NCAA 09 working (not playing) the Dynasty aspects, specifically recruiting. The 09 version of the game featured a new recruiting interface… You as the player were allocated 30 hours per week of phone time to pitch prospects directly. You gauge their interest in something like 16 or 18 categories (program prestige, distance from home, academics, etc.) and then try to convince them to sign with your school by hard selling any of your strengths that match up to their interests.
This happens every week, all through the game year. You pretend to talk on the phone to a teenager, and try to convince them to play for your school. You can target as many as 35 players at once. And in a single season, you have to go through the process at least 14 times. Recruiting can be simulated or automated, but there's a reduced effectiveness tradeoff for not handling it manually.
Meanwhile, I tend to automate all the "easy" games. So while I may only play three or four games per season… I end up manually processing nearly 500 fake phone calls to fake people.
After 2 or 3 days of playing with this new recruiting interface, I realized that I hadn't paid $60 for a football game… I'd paid $60 for a telemarketing simulator.
So this year, I'm spending my money elsewhere. I usually buy one, maybe two new games per year, and this year I'm probably going with Fight Night Round 4. In a few months, I may borrow NCAA 10 from my brother to decide whether or not to buy again next year.
Until then, I'm leaving NCAA Football to Syracuse fans and the rest of the world. It's a hell of a game if you actually want to play football… But it's probably not for me anymore.